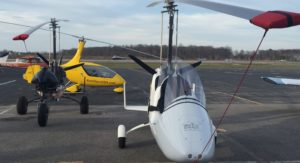 We can teach you the fly one of these amazing machines. Whether you are new to aviation or a seasoned aviator we can tailor a program to get you into the air safely and efficiently. We can sell you a new kit or find a completed and ready to fly aircraft. The options are many for a new kit. We will guide you to select what is required and what will make the aircraft uniquely yours. We can set up builder assistance to help with the construction of your new kit. Help with and arrange for the final inspection with a FAA Designated Airworthiness Representative (DAR). You will have many questions along the way and we are here to answer those for you. The paperwork that comes along with an aircraft can be daunting also. We help with much of that paperwork for you if you like. We can give you guidance and assistance on maintaining your aircraft or setup a service schedule for professional A&P mechanics to maintain your gyroplane.
If you have any questions at all please do not hesitate to contact us.
Keep checking back. It is our intent to publish new video and helpful tips on learning about gyroplanes!
---
I like this video I found on YouTube for a few reasons....
1 - Dubai looks like a very cool place to fly a gyroplane.
2 - They obviously have different rules for flying in close proximity of clouds, buildings, people, etc.
3 -  It clearly shows you don't have to wait until you are fifty years old to fly one! (or do you regain your youth when you do fly one? Hmmm?)
4 - Cool soundtrack.